Organic Powder Fertilizer Production Line
The organic fertilizer powder production line is easy to operate and requires low investment. Thus, it is recommended for small-scale farms and fertilizer factory startups. In general, 2 or 3 people can operate the whole production.
Poultry and livestock manure are good fertilizers for plants and crops. Similarly, it is natural and without chemical additives. Thus, making organic fertilizer is not only profitable but also environmentally friendly.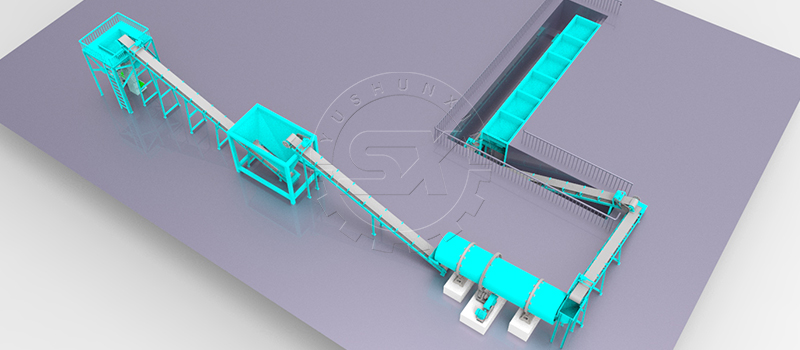 Powder Organic Fertilizer Raw Materials
Much organic waste and manure can be raw materials. No matter you own a farm or collect city sludge, you can assemble this production line. The video on the right side is the production line of making powder organic fertilizer (not includes the composting process).
Follows are other raw materials that can produce organic fertilizers.
Manure: chicken manure, pig manure, cow manure, sheep manure, horse manure, rabbit manure, quail manure, pigeon manure, and other animal manure.

Straw category: corn stalks, corn cobs, rice straw, wheat straw, bean straw, sweet potato straw, grain straw, etc.

Cake: soybean cake, soybean meal, oilcake, rapeseed cake, peanut cake, sesame cake, etc.

Sludge: domestic sludge, sugar mill filter, paper sludge, etc.

Other categories: animal carcasses, household waste, bone meal, leather, etc.

Added raw materials: plant growth regulators, synergists, anti-caking agents, coloring agents, lighteners, adhesives, trace elements, large elements, carrier materials, etc.
Powder Organic Fertilizer Manufacturing Process
There are two steps in organic fertilizer powder production line. Pre-treatment and powder processing part. After the raw material is fermented, the organic waste contains about 30% moisture. Then, you need to crush the compost to get a fine powder.
The last step is to convey the finished product by belt conveyor to the finished product silo. With the computerized quantitative packaging system, you can pack them in bags.
The video on the right side is a whole powder organic fertilizer production line installation on site. Our client ordered a 50,000 tons per year fertilizer machines. We customize every fertilizer machines according to his required capacity.
If you have special needs or know your capacity, you can contact us at any time. Otherwise, if you are not sure about your fertilizer production capacity, it doesn't matter.

You can tell us the scale of your farm and our specialists will give you a detailed plan. It is the years of experience that makes us an excellent fertilizer machines manufacturers.
How to make organic compost?
First of all, add the appropriate amount of straw powder to the organic manure. The amount of straw powder depends on the water content of the manure. In general, 45% moisture is good for making compost(get a hold of manure, you can feel the moisture but the water does not drip ). Then add fermentation microbes to the compost. For groove type compost turners, you can directly add microbes in the grooves. While for crawler type compost turners, you can add them to the windrow compost. In general, the compost will heat up in two days and will become odorless in four days. On the second day of composting, it will reach 60-80°C(temperature varies as seasons), and a number of bacteria will be killed. In summer, the compost can be well fermented in 10 days.
how to crush the organic compost?
You need to use a semi-wet crusher to crush the compost into fine powder to ensure the homogenous material. This machine can crush compost into 50 mesh and can reach 5 tons per hour. More importantly, it has a compact structure and less space.
How to screen unqualified products?
It is commonly used equipment in organic fertilizer production, mainly for the separation of products and return materials. At the same time, it also can realize the classification of finished products. The rotary screening machine adopts a combined screen and a fixed screen. Moreover, it has characteristics of screening efficiency, low noise, less dust, long service life, and small maintenance. Also, it is easy to repair and replace.
How to pack your powder organic manure automatically?
The packaging machine has a small footprint. Meanwhile, it is flexible and convenient for installation. You can adjust its speed, and its feeding speed can be set freely. Environmental protection operation, closed internal circulation systems, effectively prevent dust, and improve the working environment.
Other Equipment In Powder Organic Production Line
Powder organic fertilizer production line is suitable for your own farm use or neighborhood sales. So you can choose the low-cost processing equipment which also can assemble small-scale production.
A small production line may cost you about $30,000-$50,000(about 3-5 tons per hour), while a larger capacity may cost you about $60,000-$100,000(about 10-20 tons per hour).
For raw materials with high moisture content like pig manure, a

solid-liquid separator

is also necessary. This equipment can reduce water to 40% moisture content, which is perfect for making compost.

After fermentation, if the moisture content of the compost is still above 20%, you need to dry and cool it under the standard requirements for packaging. Luckily, a rotary drying machine and rotary cooling machine can help you with it.

If there are more kinds of raw materials and need a precise proportion of ingredients, then you need the batching system and blending system after crushing.
There's no strict standard and indispensable equipment in the powder organic fertilizer line. Therefore, you can design your own powder organic fertilizer production line according to production, and your investment.