Due of its rich nutrient content, bio fertilizer, also known as bio organic fertilizer, is frequently utilized in agriculture.
Making bio fertilizer typically requires adding microbes, which is a property of this fertilizer.
Its primary source of raw materials is organic waste, such as sludge, livestock and poultry manure.
Making compost is thus the first stage in creating bio fertilizer.
Clients who have vast area of working land can choose windrow compost turning machines. You can make manure piled up and turn the piles
Moreover, the groove kind compost turners might assist in the efficient fermentation of raw materials if your plant is built with grooves.
Two composting machines that operate in a groove are available. The first is a typical compost turner with grooves, and the second is a composting machine with wheels. The latter is simple to use and you can use it in large-scale compost factories.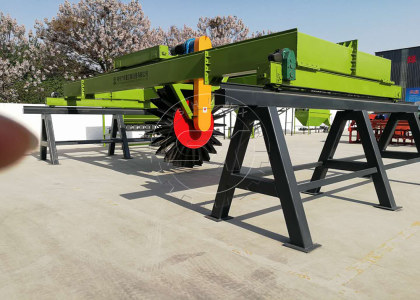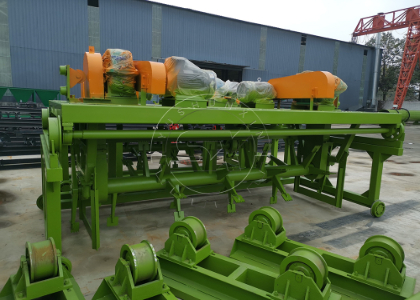 Pellets Making Fertilizer Equipment
Since pellet fertilizers are more attractive and convenient to transport than powder fertilizers, many bio organic fertilizer manufacturers prefer to produce them instead of powder.
There are two types of granulation: dry granulation and wet granulation. The principle of the first method is physical granulation technology and does not require heating, whereas the second method requires drying at high temperatures.
As for wet granulation, pan granulators, and drum granulators might satisfy your needs. A pan granulator typically has the capacity to build a small manufacturing line that can produce up to one ton per hour. And for large-scale fertilizer production, a drum granulator is a good choice.
Above are the basic steps of making bio fertilizers. Of course, you need other auxiliary equipment as well. If you need to learn more about it, click the link about bio organic fertilizer production line.
One thing you should be aware of is that when you select dry granulation, you can add bacteria to compost. Without high-temperature drying, they can survive. But you need dry pellets to a low degree of moisture if you pick wet granulation. High heat can destroy microorganisms during a dry process. So, if you select wet granulation, you should add microorganisms when coating pellets or before packaging.
Chemical Fertilizer Manufacturing Equipment
Chemical fertilizer is a compound fertilizer that is made from many chemical elements, such as urea, bentonite ore and limestone.
BB fertilizer equipment includes a crusher(see the right chart), blender, granulator, and packing machine. MFP's chemical element crusher has the capacity of 2-20TPH, including cage crusher, chain cruhser and urea crusher. These three types of cruhser can pulverise your raw materials with high efficiency and low power.
Double roller extrusion granulators are specialized in the dry granulation of chemical fertilizer. Rollers on the machine can be customized into different sizes from 3mm to 10mm.
How To Choose Organic Fertilizer Machines?
At the beginning, you need to determine the capacity of your production line. What's more, you need to know the hourly output of organic fertilizer equipment, and then you can calculate the annual output of your fertilizer factory.
Next, you should choose the correct granulator. As for dry granulation, the finished products are columnar. If you want them to be round, an organic fertilizer polishing machinie can do you a favor.
The choice of the fermentation technology to use can affect the fermentation tumbler used in the manufacture of organic fertilizer. The most popular techniques for fermenting organic fertilizer include stacking, shallow canal fermentation, deep tank fermentation, tower fermentation, and rotary cylinder fermentation.
Moreover, the most popular techniques for fermenting organic fertilizer include windrow types, groove types, and fermentation pots.
Fertilizer Equipment Manufacturer
MFP factory offers a complete line of fertilizer equipment. We have been meeting the fertilizer equipment needs in southeast Asia for over 15 years. As a well-established company, we not only furnish our domestic customers, but we continue to fill the demand for fertilizer equipment all over the world.
Since we have our own factory, so we can offer you the factory price. Our focus on service and quality has propelled us to the forefront of the industry. At our company, the customer always comes first, and we try to meet your expectations on a daily basis.