Making chemical fertilizer is of great necessity, because studies have shown that nutrients such as urea, NPK compound fertilizer, and single superphosphate (SSP), tends to flow or evaporate, thus the soil can't get enough elements.
Moreover, according to statistics, 40%–70% of the nitrogen, 80%–90% of the phosphorus, and 50%–70% of the potassium of the fertilizers applied are lost in this way in the environment and consequently cannot be absorbed by the applied plant.
Therefore, farmers often use chemical fertilizers to maintain the shortage of nitrogen, phosphorus, and potassium in the soil.
In the following paragraph, MFP company will present how to produce chemical fertilizer. All the fertilizer equipment below is made by our own factory.
characteristics of chemical plants you make
All these compound fertilizers have the same features of simple components and fast effects.
Chemical fertilizers are synthesized out of amounts of elements like nitrogen, phosphorus, and potassium. They can be divided into four types as follows:
Phosphate fertilizer. That is calcium superphosphate and calcium magnesium phosphate fertilizer.

Compound fertilizer. This is a comprehensive fertilizer that combines the main elements of nitrogen, phosphorus, and potassium in a certain proportion through a certain process.

Nitrogen fertilizer, including urea and ammonium binitrate.
Raw Materials You can use to Make
Chemical Fertilizer
First, in the preparation process of chemical fertilizer, you need to prepare your raw material.
Urea, DAP, ammonium sulfate, and potash are usually raw materials to make chemical fertilizers. Also, minerals are appropriate for making chemical fertilizers. For example, limestone processing is common in making chemical fertilizers. We have helped one customer with a mine in Australia to produce pellet products, who intends to extract and crush limestone into various products for the fertilizer and agricultural industry. As a result, he chooses a bulk blending fertilizer production line that includes a pan granulator for a pilot project.
Which Granulator Is Suitable For Making Chemical Fertilizer?
You can choose other types of granulators according to your capacity. And in the following paragraph, we will illustrate the whole production line, so you can know how a chemical fertilizer plant works. Moreover, our chemical fertilizer-making machines in the production line are customizable according to your budget and requirement.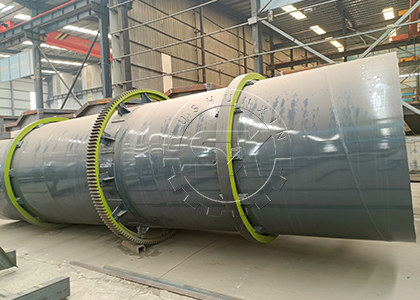 How to Make Chemical Fertilizer of NPK?
Among all the chemical fertilizers is the most popular for its compound components.
As plants need significant amounts of nitrogen, phosphorus, and potassium to grow and thrive, the npk fertilizer is also favored by farmers. With these three elements, plants can be healthier and more productive.
Now, let's see how the process of making npk fertilizers works.
5 steps in chemical fertilizer production line
In a nutshell, except for the coating process, all procedures in chemical fertilizer production are indispensable. Also, if you need an automatic production line, belt conveyors are also essential. Through this production line, you can get your final products in the least labor.
Batching raw materials
First, you need to batch raw materials as mentioned above. Then, you need a chemical fertilizer mixing machine. A horizontal mixer or a disc mixer is excellent for crushing and mixing parts. Besides, BB fertilizer mixer is also highly recommended for it can reach 5-10 t/h.
Granulation process
The essential process of chemical fertilizer production is granulation. Because it will directly determine the quality of end products. You can choose a double roller granulator, a rotary drum granulator, or a pan granulator. Among these granulators, the drum granulator has the largest capacity, while the double roller granulator is the most affordable and convenient because the latter can save drying and cooling processes.
Screen
After granulating, you should screen out the finished pellets for the first time and re-granulate the unqualified particles, which can be screened by a rotary screening machine.
Coating
Coating qualified products increases the brightness and roundness of the particles, making the appearance more beautiful. It is generally achieved by a coating machine. Of course, if your customer doesn't have a strict requirement, you may jump to this step.
Packaging
The coated granules, that is, the finished granules, are sent to the silo for temporary storage through a belt conveyor, and then connected to an electronic quantitative packaging machine, a sewing machine, etc.
Cost of Establishing a Small-scale Chemical Fertilizer Plant
If you have the intention to run a small-scale chemical fertilizer plant, MFP company can provide you with the most detailed and professional plan. For we have helped customers both at home and abroad to start a fertilizer business.
Small-scale plant
Dry Granulation
Double Roller Granulator
Large-scale Plant
Wet Granulation
Drum Granulator
For a small scale chemical fertilizer plant, dry granulation method can well meet your needs. Take our double roller granulator as an example, it can process powder into pellets with a capacity of 1-3 tons per hour.
As for large-scale production, wet granulation outperforms the dry method due to its large capacity. In dry granulation, drum type granulator is popular. Because it can reach 30 tons per hour. Additionally, the moisture is high after wet granulating. So, you need drying and cooling machines to reduce its moisture.