According to a News launched on March 29, 2023 by GLOBE NEWSWIRE, the global npk fertilizers market grew from $3.4 billion in 2022 to $3.58 billion in 2023 at a compound annual growth rate (CAGR) of 5.4% because of the Russia-Ukraine war.
People also call NPK fertilizer 20 20 20 fertilizers. The number means the three key components of NPK fertilizers.
If you are planning to build an NPK plant, you are in the right place!
MFP owns a factory that specializes in making fertilizer machines.
Moreover, our factory is established in 2005 and has sold quality NPK fertilizer-making machines and organic fertilizer machines both at home and abroad.
Now, let's see how we help one of our Australian customers to set up an NPK plant with our machines.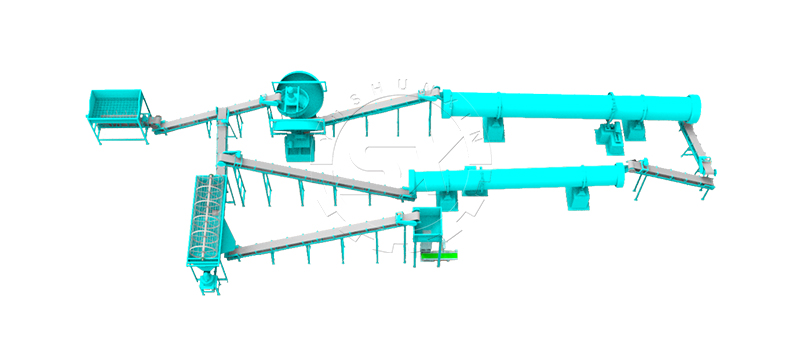 5T/H NPK fertilizer factory Top-class Machinery
This Australian customer sent us an inquiry in which he said that "here we have a number of raw materials dolomite lime, and phosphorus rock…and I want the 1mm final granules, which granulator is ok? and what else do I need for a complete npk fertilizer plant. Factory area is 40*34m."
Then, he told us he needs a 5tph npk fertilizer plant. Considering his factory area is 40*34m, we recommended him an npk fertilizer disc granulation production line.
This granulation line includes a feeding machine, a pan granulator, a rotary drum machine, a cooler, and a screener.
He finally choose our disc granulation method and below are specific parameters of disc granulator and cost of his NPK fertilizer production line.
Over 93% Granulation Rate for Our Austrialian Customer in NPK Production
As for NPK fertilizer granulation, the successful granulating rate is the most important thing to consider. So did this Australian customer.
He cared about the granulating rate. Combined with our test running in the MFP factory and feedback from our previous customer, we told him that the granulating rate can reach 93% and the finished pellets are uniform.
Actually, due to the simple principle, pan granulators can turn many types of powder raw materials into pellets. For example, another customer ordered a pan granulation lie to produce cat litter.
Furthermore, you can control the finished size of the pan granulator.
In general, when a pan pelletizer is working, the less water you add, the smaller size of the pellets.
Therefore, you can decide the size of pellets by controlling the moisture. For the NPK fertilizer production process, it is better for you to have people observe the moisture state of raw materials.
nPK fertilizer plant Cost of Our australian client
We have mentioned in the second paragraph that the machines in an npk fertilizer plant include feeding machine, a pan granulator, a rotary drum machine, a cooler, belt conveyors and a screener.
Besides, if you need a more automatic production line, you can also purchase a packaging machine. In this way, you can greatly reduce the labor force and the production line can run smoothly without stopping.
Our Australiam client costs about $80,000-$100,000 (the price is changing with exchange rate and raw materials price.)
You can send us an email to know the quote for the whole line of npk fertilizer machines.
If you feel interested in our npk fertilizer manufacturing machines, please sent us an inquiry!
how Does MFP factory help with Australian Client to install nPK fertilizer plant?
During the process, the Australian customer was a little bit confused about the installation. But in fact, the MFP factory provides detailed after-sales service.
We can not only provide our cutomers with layout design, but also teach them to install and operate during the whole process. Because we are devoted to help our customers produce good-looking and excellent fertilizers.
Because our specialists can help with installation and we also have many tutorial videos. Customers can find us whenever they have trouble with installation or operation.